COMPANY / PRESENTATION
Since 1952, STOLZ has designed, manufactured and installed equipment providing industrials with powdery or granulary products handling and process: mechanical handling, hammer mills, pellet mills, thermal conditioners, mixers, dedusting filters,…
OUR EXPERIENCE
Relying on its Technical Office long standing expertise, STOLZ can meet numerous requirements ranging from a simple mechanical handling installation to a complete feed mill. STOLZ main customers are agrofood, animal feed industrials, silos, and biofuel producers.
QUALITY
STOLZ quality and lifetime of its equipment have always been regarded as essential. Mixed competencies and know-how from all departments guarantee such quality : our equipment is designed by our engineers, then manufactured within our French plant. The installations we deliver to our customers or to their consulting firm are designed by our technical office in permanent contact with production.
REACTIVITY
With such significant involvement,STOLZ has a perfect knowledge of the equipment and process the company may be required to work on. It helps STOLZ to integrate quickly technical developments, manufacture tailor-made equipment and comply with many regulatory constraints.
Thanks to a constantly improving production tool, STOLZ has successfully adapted its production to a complex target : to deliver industrial tailor-made solutions.
Automated laser cutting station, digital folding machine, welding robots,… all these tools adapted to STOLZ fields of expertise and combined with its teams know-how enable Stolz to be competitive facing countries with very low labour costs.
For more details about STOLZ please refer to our corporate presentation.
Key points
STOLZ employs 220 people including over 50 in the technical office.
The manufacturing plant (30 000 m² covered) is located in Wailly-Beaucamp (62), in the south of Boulogne sur mer.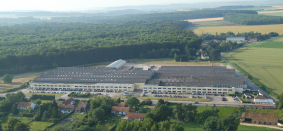 Since 2007 STOLZ has been a part of DESMET GROUP (Belgium) a recognised leader in the design of installations and facilities for oilseeds and biofuels.
STOLZ company achieves an average yearly turnover of 65 millions euros, mainly in Europe, Asia, and North Africa.
4 sales offices in France :
Wailly-Beaucamp (62)
Lyon (69)
Pontivy (56)
Pau (64)
Overseas sales offices are located in Italy, Spain, Morocco, Malaysia, Singapore, China, and Vietnam.